A generation before Wisconsin was a state (prior to 1848), the territory experienced an immigrant-driven boom that would permanently shape Wisconsin's socio-political future. In the area of what is now known as Mineral Point, Wisconsin, underground lead mines were as prominent as churches and saloons. It is in this region where Wisconsin earned its name "The Badger State". Not because the lead mine district was full of furry little badgers who grunted their way along the lead veins, but because settlers living and prospecting in shallow mines across the land came in and out of their holes like badgers. Some miners were have said to have converted old mines into homes and truly lived up to the name of the underground dweller. Mineral Point then is aptly named; the town was a central focal point for the mineral districts and colonies.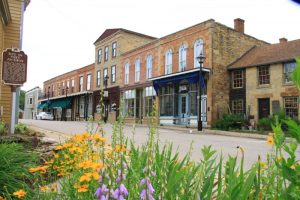 The mining colonies attracted a special breed of people, mostly from the Cornwall, England. In a twist of fate, at the turn of the 19th century, the Cornish were being persecuted in their native land and found relative freedom and prosperity in the lead districts of the newly United States. They set up shop and built a second home in Mineral Point, squeaking out a living as miners and farmers. The more prominent and ambitious among them built small factories and hotels, many of which stand today.
Among the industrious was a gentleman named John Phillips who built a brewery in 1835. Being an Englishman's ambition, the brewery likely supplied ales, porters and stouts to local drinkers. Consistent with the time, one could likely draw a pint from a barkeep or bring a pail to be filled and shared among friends. The ales were perfect for this time and type of customer–the English were used to warm, top fermented beers that kept well at room temperature. Lagers, the German claim-to-fame, would come later and require a colder source of water and place to ferment the elixir.
Although initially settled by Cornish, records from the time illustrate a community rich in diversity. The tolerance and type of work attracted like-minded settlers from further east, immigrants from Poland and Ireland, and in a unique twist of fate, women and families. Because the area could be both mined and farmed, settlers could bring family along and make a permanent stake in the west. Area farmers could ease the dependence on imports and create a more stable community, stable enough even to raise a family. The final blend of this frontier settlement was one peppered with various religions, languages, customs, food preferences, and lifestyles. It is no surprise that Mr. Phillips soon had brewing competition. As the population grew, so did demand and innovation. By the 1850s, three breweries thrived in Mineral Point, including a would-be famous establishment, the Garden City Brewery.
Although there is yet to be a fervent attempt to reinforce Mineral Point as the official birthplace of brewing in Wisconsin, there are many facts (besides that it is the first commercial brewery on record) that suggest it is a reasonable claim. This is not to assume that smaller, homemade style brewing did not take place in other towns prior to 1835. After all, it is unreasonable to assume that white settlers practiced a dry tradition in the early settlements of the 1820s. But relatively large-scale brewing required larger quantities of ingredients and a settled demand, access to road and rivers, and reasonable security.
Mineral Point in the 1830s was in an area considered more secure than other parts of the frontier in large part because Native Americans (in this case, the Ho-Chunk, Fox, Sauk, and Sioux) were already forcibly removed and military forts were well fortified. The area around Mineral Point was also fertile land for growing local hops and barley–important ingredients for beer and livestock. The first railroad wouldn't come to Wisconsin until 1849, but southern Wisconsin had well established dirt roads, stagecoaches and river transports. There was rail from Galena (named for lead ore) to Chicago officially in 1836. Galena was less than a half-day's coach ride from Mineral Point and was already a booming metropolis with its own supply of saloons and miners. With the three principal ingredients for success well established– access to local ingredients, access to water, and easy access to large demand in a big city, Mineral Point is the perfect place for Wisconsin's pioneering commercial brewery.
Today, Mineral Point wouldn't be the same without a brewery. Thankfully, you can celebrate the brewing birthplace with a pint at Brewery Creek Brewery, which also operates as a bed and breakfast. While the Phillips brewery is gone and the Garden City Brewery a landfill, you can still visit a relic brewery at Brewers' Pottery on Shakerag street. The community of Mineral Point remains a rich artist community and remains a perfect spot for history buffs, writers, and savvy beer drinkers.