By Kathryn Jorgensen BOSTON, Mass. – For 10 years John Moon, current president of the Civil War Round Table of Central Massachusetts, has pursued a dream. He's been dogged, determined and dedicated, trying to bring the Fort Warren Film Project to fruition.
Moon is looking for funding so that producer/director Erik Ewers can produce a one-hour documentary about Fort Warren which housed Confederate military and political prisoners on George's Island in Boston Harbor.
Among those imprisoned during and after the war were Gens. Simon Bolivar Buckner and Joseph Tilghman, Confederate Vice President Alexander Stephens, Confederate sailors, and James Murray Mason and John Slidell, whose arrest on the British steamer Trent nearly brought Great Britain into the war.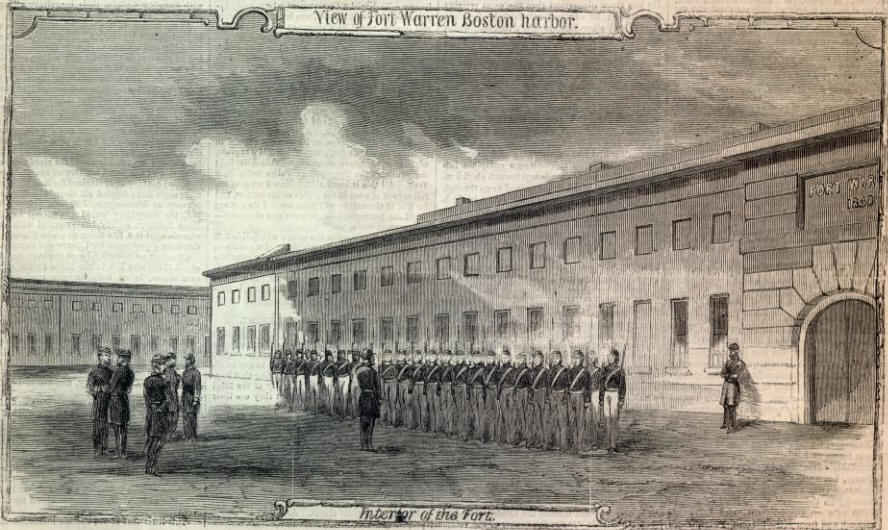 Ewers, who is an editor for documentary producer Ken Burns at Florentine Films of Walpole, N.H., wrote the script which he and Moon researched. It was Ewers's idea to make a film to tell the remarkable story of the fort where only nine prisoners died.
The title will be "Fort Warren: Bastille of the North." Ewers's script tells Fort Warren's story from when construction started in 1833. It was large, six acres, and strong, built of granite. Its name honors Dr. Joseph Warren, the Minuteman who died at Bunker Hill.
"This Fort Warren story can be a further healing because of the humanitarian ways of [Commander] Col. Justin Dimick who is a real American hero," says Moon. The film script relates many of Dimick's kindnesses to prisoners some of whom signed a letter asking humane treatment for Dimick's son, an army lieutenant, if he were captured. He died at Chancellorsville. Conditions changed in 1863 when the War Department ordered that prisoner treatment be comparable to that in Southern prisons.
A lot of people agree that the film which Moon hopes would air on PBS and at the fort would bring many benefits, including preservation and tourism. Proceeds from video sales would go to restoration of the fort.
Donations have come from diverse groups and agencies including a $16,000 matching grant from the National Park Service, a $500 Preservation Services Fund Grant from the National Trust for Historic Preservation, and funds from the Massachusetts Department Sons of Union Veterans, 5th Alabama Field Music, and Rhode Island Civil War Round Table.
Among those endorsing the film project is the Metropolitan District Commission which owns the island and is spending $1.5 million of its and federal money to restore the seawall. The Fort Warren Film Project has been endorsed by the office of the Governor of Massachusetts, the Island Alliance and SUV camps in three states.
Boston Harbor Island Advisory Council Chair Jack Wiggins wrote of the economic and cultural benefits to the state. "We believe the film has great value not only as a chronicle of a fascinating and important era in the history of the islands, but also for generating public interest in and promoting visitation to the Boston Harbor Islands."
The film pilot impressed Wiggins who noted its "depth of research and film-making expertise."
Moon says that for the production phase they need about $67,000 to cover such expenses as filming interviews and footage of the fort, camera rental, purchase of photographs and visual materials. Post-production is more costly, an estimated $150,000 to $175,000 which would include salary for Ewers who was not paid for his research and 80-page script.
His boss, Ken Burns, says the documentary will make "excellent television." He has agreed to act as a consultant, and several of his staff will assist Ewers.
Ewers, who grew up in Massachusetts and visited Fort Warren as a child, is a former member of the 2nd South Carolina String Band. He worked on the PBS Jazz, Lewis and Clark and upcoming Mark Twain documentaries.
In describing the project Ewers wrote that the Fort Warren story will be told "through the words of those who were kept within its walls, soldiers and prisoners alike." Photographs, illustrations, live footage, music and narration will be used.
If the money materialized immediately Moon estimates the project would take a year and a half to complete because Ewers is now busy with Burns's Mark Twain documentary.
In the meantime Moon knocks on all doors he can think of pursuing his dream of a collaborative effort. He recently applied to the American Battlefield Protection Program and would like a chance to tell the people at the Civil War Preservation Trust about the film project. He has ideas for promoting other preservation efforts through materials given with the video and film credits.
He hopes a state medical group will help since the hospital at Fort Warren may be the only Civil War hospital left in the region.
For years Moon has worked for and donated to preservation of battlefields. His thick file of correspondence documenting his efforts reads like a who's who of Civil War preservation.
Moon sees the Fort Warren Film Project as a sort of demonstration project for others, including corporate sponsors, on the benefits of what he calls "collaborative Civil War education preservation effects." He's seen support from Civil War groups at the local, state and regional level, as well as from the National Trust and Department of Interior. Now he's looking for national support.
If he is successful in his quest for film project funds it will demonstrate "strong local, regional and national Civil War grassroots," he says.