Fairchild Equipment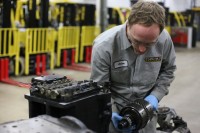 About:
Fairchild Equipment is a material handling company offering Hyster equipment in southern Wisconsin. Our company provides equipment from the Hyster product line, part of Hyster-Yale Materials Handling, a leading global provider of a comprehensive line of lift trucks and aftermarket parts.
Recently, the company expanded to the southern portion of Wisconsin when on July 1, 2014 Fairchild Equipment acquired the assets of Schmidt Industrial Truck, Inc. from the Schmidt family in Racine. Later in the year, on October 1, 2014 Fairchild Equipment announced that the company agreed to acquire the Hyster material handling dealership rights from the Heyrman family the owner of Milwaukee Engineering Equipment (MEE) in southern Wisconsin.
Products from Hyster range over a comprehensive basis from the largest container handlers and reach stackers, pallet trucks, IC and electric lift trucks, to nearly every type and size of industrial forklift truck. Complete materials handling and warehouse solutions are available from Fairchild Equipment including materials handling equipment, warehouse equipment, allied equipment, industrial cleaning equipment, full-line parts and service, racking layout and design, forklift training, fleet management, financing, and more.
Fairchild Equipment, founded by Gary Fairchild, originated in 1985 as Yale Materials Handling – Green Bay. Today, the company has expanded and has nine facilities designated into three divisions across the state of Wisconsin and Minnesota and employs over 200 people. Fairchild Equipment has been continuously recognized with the prestigious Dealer of Excellence award from NMHG (NACCO Materials Handling Group) 19 times to-date, an award based on the dealers' industry-leading level of business performance and overall service to their materials handling customers.