Arker Configuration LLC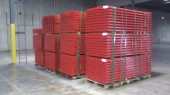 About:
Our Services
We configure warehousing and manufacturing fixtures for all scales of industry. We offer interstate logistics management to move your machines and integrated storage systems with precision and care.
Our Products
A diverse inventory network offers us an opportunity to better configure industrial spaces. Having sold over 5,000 unique parts, some in excess of 10,000 count, we know where to source the best system for you.
Our Design
Arker is owned and operated by partners trained and experienced in design and construction logistics. We draw on years of practical experience and academic training to realize unique design for one of a kind spaces.